THE ANCIENT MEETS THE FUTURE
THE FUTURE of gong culture is being written now. How are we Influencing It? How can we shape it.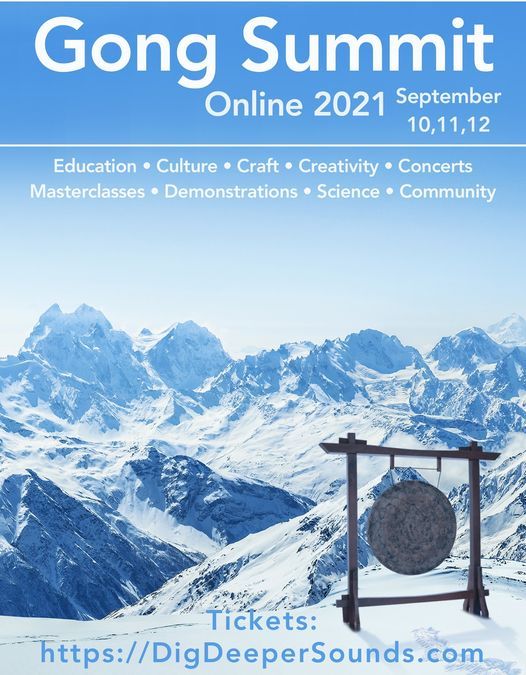 Gong-Lovers worldwide will be gathering together virtually for exclusive MasterClasses with world-leading experts to explore Gong culture, Gong craft, and Gong community.
Our virtual gathering will include MasterClass Clinics, workshops, intimate dialogues and interviews with international Gong artists and makers, with an emphasis on education and skillset development.
We will continue to explore the musical, meditational, and therapeutic potentials of the Gong in our time... further exploring Gong history, the perception and science of Gong sound, craftsmanship, personal perspectives, stories, and relationships with the instrument... giving participants a well-rounded and non-dogmatic approach to the Gong as a uniquely powerful tool for consciousness shifting and much-needed social change.
Most importantly, we will be gathering together again; and nurturing the ever-growing international Gong community.
Gong Summit 2021 presenters and artists include Andrea Centazzo, Don Conreaux, Karen Stackpole, Dr. Karambir Khalsa, Phil McNamara, Michael Bettine, Bear Love, Yin Xiong, Mitch Nur PhD, Jens Zygar, Thomas Orr Anderson, Mike Tamburo, Martin Blase, Fran Bak, Rolf Nitsch, Ross Barrable, Kate Tierney Glaser, Michelle Pirret, and more.
Each purchased ticket provides admission for one person for the entire virtual event. Prior to the event, you will receive an email containing ZOOM links and all other pertinent information.
Videos will be available for additional viewing for a limited time after the event. Videos will be released within 2 weeks of the Gong Summit.
18
Speakers
National • International
BE A PART OF THE GONG SUMMIT - Online OVER ZOOM